Job Description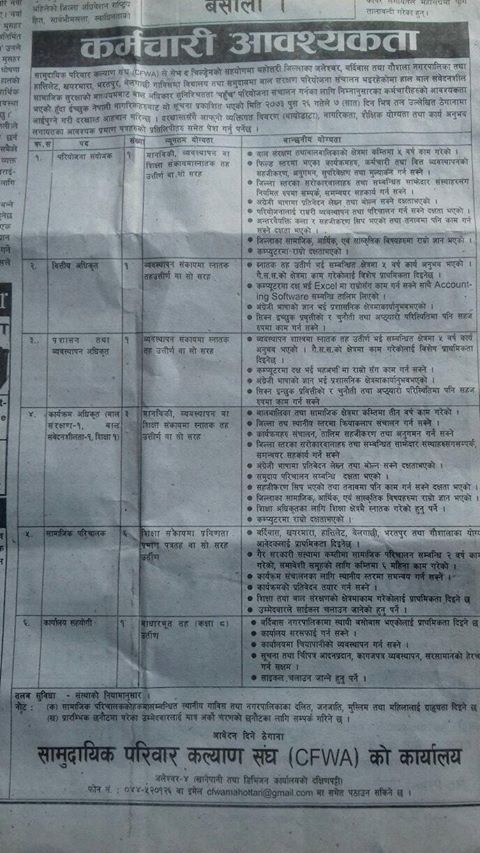 Job Specification
Apply Now, We are hiring you,
1. Program Coordinator-1
2. Program Officer-3 (Child Protection-1, Social Protection-1, Education-1)
2. Admin and logistic Officer-1
3. Finance Officer-1
4. Social Mobilizer-6
5. Support Staff-1
Email your application and CV
cfwamahottari@gmail.com
More details Click Here
Organization Summary
Community Family Welfare Association was established in 2053 BS (1996) in Deodiha VDC ward no. 8 of Dhanusha district as a Community Based Organization (CBO) with technical and managerial support of Family Planning Association of Nepal under its long term sustainable plan for continued Family Planning services at the community level. CFWA was later registered under the District Administrative Office (DAO) on 13th day of Asar 2053 BS in Dhanusha. The organization currently has its head office at Deodiha VDC ward no. 8 and field office in Janakpur Municipality ward no. 4. Since its inception CFWA has been carrying out various populations and development works such as education, reproductive and environmental health, Women empowerment, capacity building and skill based training, as well as income generation activities in program VDCs. So far the organization has served population of 57 VDCs and 1 Municipality out of total 101 VDCs and 1 Municipality in the Dhanusha district and 18 VDCs and 1 Municipality out of total 76 VDCs and 1 Municipality in Mahottari District. The organization aims at expanding its program in rest of the VDCs as well as in other districts of Nepal in the future.
Industry Type NGO / INGO / Social Work
Location Jaleshwor Mahottari
Active Jobs By Community Family Welfare Association