About Sudeep International Pvt. Ltd.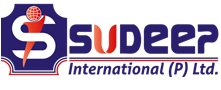 Welcome to Sudeep International Pvt. Ltd., a highly reliable and reputed company situated in Kathmandu, the capital city of Nepal.
Sudeep International Pvt. Ltd. is established in 1994. The objective of this company is to provide Hi-tech Medical and Laboratory products for the treatment of disease which will improve the life and health of the people of Nepal.
Most of the products are manufactured in Europe, USA, Japan, China and India. Our motto is "Qualttity Product for Better Diagnosis".
We are concentrated on Quality product which should be certified ISO 9001 : 2008, ISO DIN EN 13485 and CE certified. Our customer can feel the difference on Quality provided by us. We are trying to give all the benefits of a high-tech production. Customer requirements are satisfied by our flexible marketing and sales policy.
Another key point of Sudeep is after sales service support where our dedicated engineers are covering entire Nepal