Job Description
Trishuli Jal Vidhyut Company Limited announces vacancy for the following posts.
Mechanical Engineer (Level 8)

Senior Engineer (Quality Control) (Level 8)

Senior Engineer (Construction) (Level 8)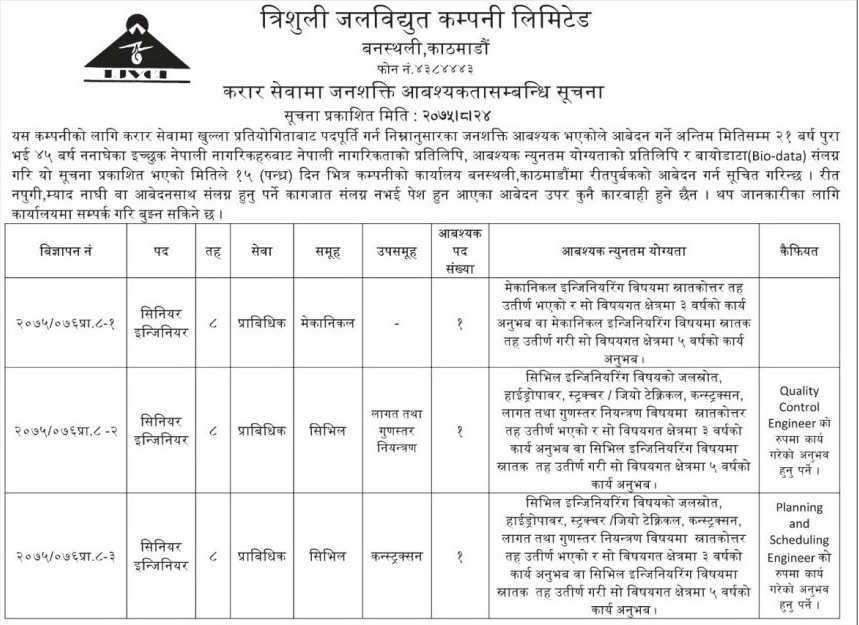 Organization Summary
Trishuli Jal Vidyut Company Limited (TJVCL) is a joint venture company of NEA and Nepal Telecom having equal equity share participation apart from other equity share holders. The main objective of this company is to develop the Upper Trishuli 3B Hydroelectric Project (42 MW) located in Nuwakot and Rasuwa District. This project is cascade project of Trishuli 3A Hydroelectric Project (60 MW) and therefore, operates with respect to Trishuli 3A HEP.
Industry Type Hydropower / Alternative
Location Sohrakhutte, Kathmandu.
Active Jobs By Trishuli Jal Vidyut Company Limited