Job Description
Job Post: Assistant Pharmacist
Qualification : Diploma In Pharmacy
Documents Required:
Copy of Relevant academic certificates
Training Certificates (If any)
Experience Certificates (If any)
Copy of Pharmacy Council Registration Certificate
Copy of Citizenship Certificate
Bio Data./.C.V../.Resume
Recent PP Sized Photograph (1 pc)
Apply Instructions
Apply to :
Administration Office,
Gautam Buddha Community Heart Hospital
Ramnagar-10, Butwal
E-mail:gbchearthospital@gmail.com
Contact: 071-546301,546315,546197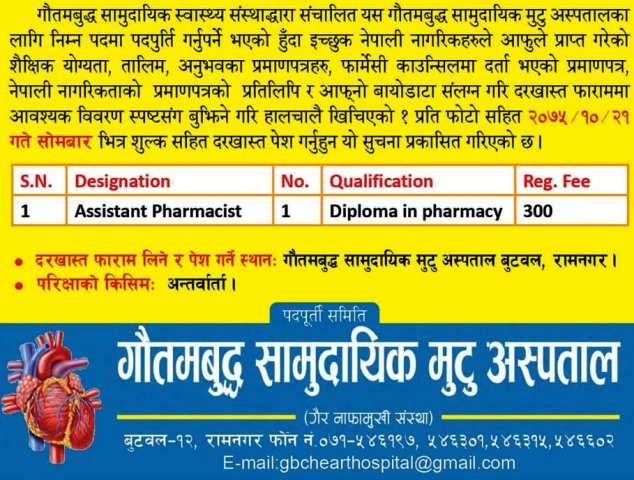 Organization Summary
Gautam Buddha Community Heart Hospital (GBCHH) , Butwal is a specialized Heart Hospital that offers preventive and curative services .Established in 10th of  Poush,  2070 with a motive "Healthy Heart is Our Purpose", GBCHH started its journey as a community based hospital under the conservation of Rupandehi Chamber of Industries along with supports from Rotary (Rotary Club of Butwal Downtown, Rotary Club of Butwal South, Rotary Club Of Butwal). From day one, it served people in convenient and accessible way.  
It aims to provide best healthcare services through specialized cardiac and kidney centers including both invasive and non-invasive facilities to the patient through advance technologies and qualified human resources.
Visit us: http://www.gbchh.org
Industry Type Community Organization
Location Butwal-10, Ramnagar
Active Jobs By Gautam Buddha Community Heart Hospital