we are searching for an individual having expertise in construction works, site supervision material procurement and civil engineering to be part of our team. The individual should be responsible ad should be able to lead a team of members having different field of expertise.
We are hiring for a project which is sitauated in rajar, Nawalaparasi , Engineers located around that area are preffered.
Engineers/overseers from kathmandu area who are willing to work outside the valley on site are also welcome.
Office Location for Interview:
https://www.google.com.np/maps/place/Nepal+Communitere/@27.6783488,85.3154281,15z/data=!4m2!3m1!1s0x0:0x2e322daaeff14f21?sa=X&ved=2ahUKEwj-me7Rtd3dAhVOdCsKHQ4fBjwQ_BIwEXoECAcQCw
Project Site Location:
https://www.google.com.np/maps/place/27%C2%B039'51.7%22N+84%C2%B014'21.1%22E/@27.66418,84.2385821,228m/data=!3m1!1e3!4m5!3m4!1s0x0:0x0!8m2!3d27.664351!4d84.239184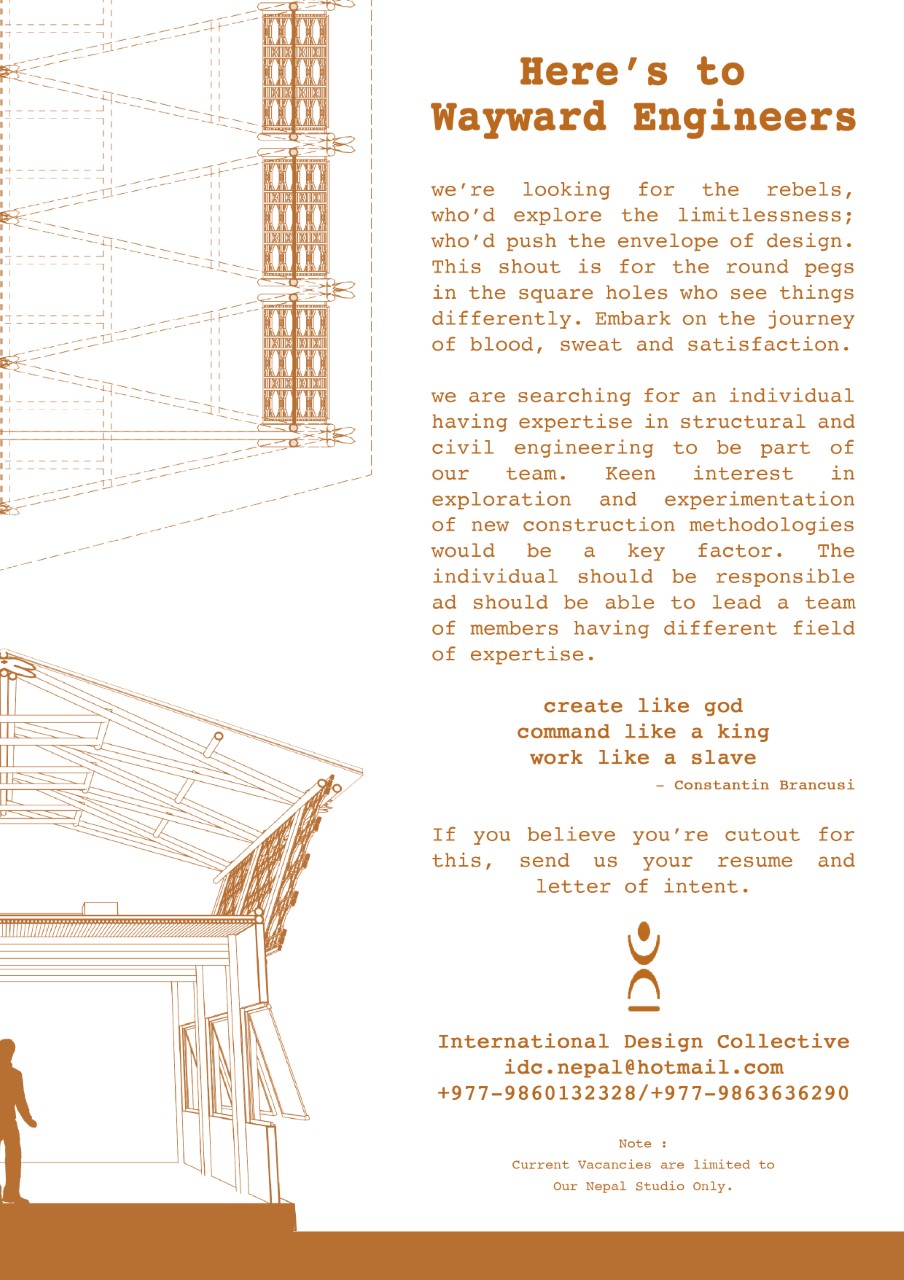 Duties: Site Supervision both inside and around the valley, Market and material research, Structual Drawings and Analysis, Tender, Quantity and Estimation Preparation.
Skills: Excel, SAP/STAAD analysis, Autocad Dwg
Opportunities: Work with international design team, Conceptualization and execution of unique projects, construction techniques and details, opportunity to learn new softwares for office system, Team work.
Requirements: 1-3 years of professional experince, Bachelors in civil Engineering/ Diploma, 2-wheeler preffered.
Salary: 12000 | Negotiable based on Experience and above qualitification
Probation Period: 3 Months
Resume, Letter of intent describing why we should hire you